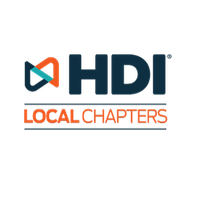 As the COVID-19 pandemic continues to evolve, we wanted to take a moment and express our concern for the safety of our friends and colleagues across the association and industry. First and foremost, please be safe.
Support World Live - Many of you have seen the HDI announcements about Support World Live. HDI has successfully postponed the event to August 2 - 7 at the MGM Grand in Las Vegas Please refer to the official announcements - https://www.hdiconference.com/
Local Chapter Events - As an association, we encourage chapters to follow the CDC guidelines* and cancel all in-person events, moving to a virtual model. We are continuing to hold Virtual Chapter events and are going to open them up to the community, so that our colleagues and peers have an opportunity to share and "meet" online. This may provide much needed contact and support for our industry and community.
What makes our association special is the way our community supports one another. Just as we have for over 25 years, let's be here to help each other through these uncharted waters. HDI Local Chapters #TogetherWe'reBetter
Be safe, friends…<virtual hugs>
HDI Local Chapter Board of Directors
Brandon Caudle - Chair
Sandy Seroske - Past Chair
David Cole - President
https://www.hdilocalchapters.org/
* https://www.cdc.gov/coronavirus/2019-ncov/index.html
---